"Wall Street exaggerates everything; the business of investing is not the same as investing in a business."
— "Maxims of Wall Street," p. 143.
When the stock market fell out of bed suddenly in the past week after years of going up almost every day (the indexes rose every month in 2017, an historic first), I picked up a copy of my "Maxims of Wall Street" and discovered a great many sayings and proverbs to ponder, starting with my own above.
Whenever a panic hits the markets, I always get a lot of telephone calls and letters (now emails) from my subscribers, friends and family members asking: What should I do? Should I sell? Is this the beginning of a bear market?
To answer these questions, I find it comforting to turn to this little quote book. My quotation above, "Wall Street exaggerates everything," can best describe the following graph comparing Wall Street (the stock market) and Main Street (the economy) since 1990.
Looking at the chart, you can make several clear conclusions:
The stock market is awfully moody, far more volatile than the underlining fundamentals of the economy. As John Maynard Keynes suggested, "animal spirits" of greed and fear often take over, and you have to have a lot of patience and fortitude to overcome the temptation to buy at the top and sell at the bottom.
"Buy and hold" still works, especially if you dollar-cost average your investments over time. As long as we benefit from a free-market economy, the long-term trendline is upward. This is especially true in the United States. But you must be willing to hold on during the roller-coaster ride. It will test your patience.
When the economy struggles, so does the stock market. Those bear markets in the above graph all had to do with impending recessions, especially 2000-01 and 2008-09. In those cases, the stock market exaggerated the decline and fell by 50% or more. It took several years to recover.
There is no doubt from the chart above that Wall Street engaged in too much "irrational exuberance" in 2017 and the market was due for a correction. But the economy itself is still in a positive position to grow even more. Both the top line, gross output (GO), and the bottom line, gross domestic product (GDP), are doing well. The fact that GO has been growing slower than GDP suggested a pullback, and that's what we experienced last week. For more information on GO as a leading indicator, go to my new website, www.grossoutput.com.
Wall Street veterans remind us of the old adage, "Trees don't grow to the sky." The markets had a well-deserved break, spooked by rising interest rates.
Gems on the Market's Craziness
Commodity guru Dennis Gartman is a big fan of my "Maxims" book. He has it on his desk and consults it regularly. He told me, "It's amazing the depth of wisdom one can find in just one or two lines from your book." These might include:
"The market takes the stairs up and the elevator down."
"Bull markets climb a wall of worry."
"The trend is your friend — until it ends."
"In the short term, the market is a voting machine. In the long run, it is a weighing machine." — Ben Graham
"Emotions are the worst enemy in the stock market." — Don Hays
"Troubled waters make for good fishing." — Daniel Drew
"If you are a long-term investor, you will view a bear market as an opportunity to make money." — John Templeton
"If you want to see a rainbow, you have to stand a little rain." — Jimmy Durante
"Owners of sound securities should never panic." — J. Paul Getty
Of course, there's always some humor to be found in "The Maxims," such as:
"How many insecurities traded on Wall Street today?" — Franc Pick
"The broker told me to buy this stock for my old age. It worked wonderfully. Within a week I was an old man." — Eddie Cantor
And, of course, this classic from Will Rogers: "Don't gamble. Take all your savings and buy some good stock and hold it till it goes up, then sell it. If it don't go up, don't buy it."
Bargain Deal: Half Off Price for "The Maxims"
"The Maxims of Wall Street" is now in its 5th edition and has sold over 25,000 copies. It has been endorsed by Warren Buffett, Alex Green, Jack Bogle, Ken Fisher, Richard Band, Bert Dohmen and Barron's. It is conveniently divided into categories, such as "Bulls and Bears" and "Income and Growth." It also includes several short stories you will enjoy reading, and tales of wisdom from Joe Kennedy, Jesse Livermore and Bernard Baruch.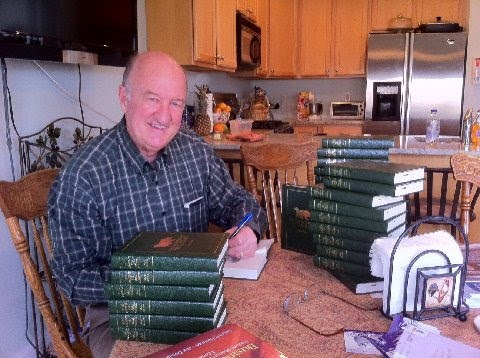 "Maxims" retails for $24.95, but I charge only $20 for the first copy, and all additional copies are $10 each. They make a great gift item for friends, relatives and investors. You also can buy an entire box (32 copies) for only $300. I pay postage for all books, as long as they are mailed inside the United States. All books are personally autographed.
To order your copies, call Harold at Ensign Publishing toll-free 1-866-254-2057, or go to www.miracleofamerica.com. (For additional shipping charges outside the United States, call Harold.)
You Blew It! 'Fair and Balanced' Fox News Ignores Major White House Scandal
I had to laugh when Tucker Carlson said last night on his Fox News show, "This is a major story, you would think the media would cover this."
He was talking about a story related to the never-ending media obsession over the Russian involvement in American elections. Meanwhile, Fox News deliberately ignored a major scandal developing at the White House — the sudden resignation of Rob Porter, Trump's staff secretary, former chief of staff to Senator Orrin Hatch and one of the principal authors of the Jan. 30 State of the Union address.
Porter, son of Roger Porter, who worked for George H. W. Bush, is being accused of physical abuse by his two ex-wives. One ex-wife has shown photos of herself with bruises around her eye that she said occurred during an assault by Porter.
For details on this story, see this link.
In this "You Blew It" column, I've criticized Fox News in the past for failing to cover major stories, such as the Marxist takeover of Venezuela. The New York Times and the Washington Post have had major cover stories on this unfolding tragedy, but Fox News seems to be more interested in Trump's Tweets and alleged Russian interference with American politics.
It is becoming clearer and clearer to me that Fox News has a serious bias in favor of the Trump administration and its coverage is anything but "fair and balanced." And that's unfortunate.