"Dividends are the critical factor giving the edge to most winning stocks in the long run."
— Jeremy Siegel, Wizard of Wharton
My wife and I traveled across America last week from Florida to California, where we will be teaching at Chapman University for the next five months.
On the way, I visited the beautiful headquarters of Main Street Capital, my favorite income stock, in downtown Houston and met for the first time with its CEO Vince Foster and COO Dwayne Hyzak. (see photo below).
I'm always reminded of this company whenever I drive around the country and see street signs with the name "Main Street." It is probably the most common street name in the United States.
Main Street Capital (MAIN) is considered the best of the breed when it comes to business development companies (BDCs). In the nearly six years we've recommended it, since April 23, 2012, MAIN has produced a total return of 123%, which includes $14.58 in dividends and special payouts. It has done even better if you reinvest all dividends. In that case, the total return jumps to 158%, or 18.5% per year. That's better than the S&P 500 Total Return Index, which rose 16% a year during the same time period.

Main Street has a rising dividend policy and has increased its monthly dividend nine times since we recommended it in 2012. But even then, MAIN still offers a 7%-plus dividend yield when you include the twice-yearly special dividends. The yield could rise if the BDC increases its dividend this year. It is my favorite stock for income seekers, and I've yet to receive a single complaint from subscribers.
As far as I know, of the 6,000 stocks that trade on U.S. exchanges, Main Street Capital is the only one that pays a monthly dividend, plus two special dividends a year.
Main Street Capital has outperformed all other BDCs because it doesn't just finance private companies through debt, but also takes a sizable equity position and thus can profit from the growth in these small to midsize businesses. Main Street Capital's top management painstakingly visits every company before investing. I'd hazard a guess that most other BDCs are not so dedicated. So far, Main Street Capital has invested in nearly 200 companies. It expects 9 out of 10 deals to be highly successful and, so far, its management has been right. Hurricane Harvey had little impact on its businesses.
Mark Skousen visits the headquarters of Main Street Capital to meet with its CEO Vince Foster (center) and COO Dwayne Hyzak (left).
MAIN specializes in private, closely held family businesses that require more financing, often due to the desire of founders to retire and pass along their company to the next generation. Commercial banks and private equity are not well suited for these arrangements, so BDCs like Main Street Capital can step in and structure a deal that is a win-win for both parties.

In fact, MAIN actually benefits from excessive federal regulations such as Sarbanes-Oxley. The so-called "Sarbox" law makes it much more expensive to go public, so many middle market firms turn to Main Street Capital to finance their needs. Foster and Hyzak told me that the Securities and Exchange Commission (SEC) under President Trump has become more pro-business.
However, the new tax law makes everything more complicated when it comes to business development companies. When my wife and I visited Main Street Capital's offices, they were working through the gigantic new tax law, and showed me the two massive tomes in 6-point type that now constitute the U.S. Tax Code. (See photo.)
Mark Skousen and Vince Foster (left) show the two volumes of the IRS Code.
Foster and Hyzak told me that income investors love MAIN, and dollar cost averaging is the best way to go because it allows investors to buy in at low prices.
Finally, the two executives were confident that Main Street Capital can continue to grow without hurting performance. "We could triple in size, given the market here in Texas and around the country. There are plenty of opportunities in this growing economy."
New Year's Resolution
Now that we have entered a new year, I suggest you make a resolution to attend one or more investment conferences in 2018, whether it be the MoneyShows, Investment U, New Orleans conference, or FreedomFest in July. (See below for my appearances in February.) I always make a point of attending these conferences and have found them to be educational and enjoyable.
You Nailed It! Sen. Orrin Hatch Will Take Bipartisan Outreach into Retirement
"A long life may not be good enough, but a good life is long enough." — Ben Franklin
Sen. Orrin Hatch (R-Utah) announced his retirement this week after serving seven terms, and his departure will leave Congress without a key lawmaker who could work with Democrats as well as Republicans.
He also is a friend whom I have known since 1977, when my family and I lived in Washington, D.C. We spent time together as a family, and I occasionally was one of his speech writers.
My wife helped one of his sons do his homework and graduate from high school. We also were members of the same religious congregation (Mormon). In 1977, I was in charge of the Sunday School program at our local ward, and I asked Sen. Hatch to teach the "gospel doctrine" class. He served in that position for 30 years!
We've kept in touch ever since, meeting at his office, home, political conference, or at a Utah Jazz game. He was a close friend of my uncle, Cleon Skousen, a noted conservative writer and defender of the Constitution, and spoke at his funeral in 2006.
Last month, my wife Jo Ann and I spent an evening with Sen. Hatch and his wife Elaine at their home during the Christmas holidays. Since he is third in line to succeed the president (as president pro tempore of the Senate), the Secret Service goes wherever he goes, including his home and church. The Hatches have lived in the same home for 40 years in northern Virginia. We had a great evening talking about the old times with his family. Sen. Hatch used to sit down at the piano and play various songs and hymns.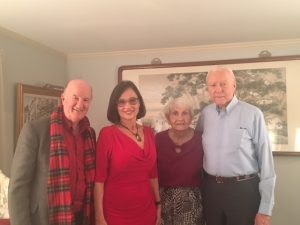 Mark and Jo Ann Skousen meet with Sen. Orrin Hatch and his wife Elaine at the lawmaker's home in Northern Virginia.

Sen. Hatch is the longest-serving senator in U.S. history, covering 40 years of public service. He is unusual in that he is known to be bipartisan and worked frequently with Democrats to co-sponsor legislation. He was a long-time friend of Sen. Ted Kennedy. When I last visited him at his office in August, we met with Sen. Elizabeth Warren (D-Massachusetts), who came to visit Hatch to talk about a joint legislative effort.
Despite his willingness to work with Democrats, Sen. Hatch established a consistent record of voting as a "conservative" Republican. He worked hard to seek passage of a Balanced Budget Amendment, which lost by only one vote in the Senate in 1997. The American Conservative Union has consistently rated his voting record at 90% or higher.
When we last met, he talked about retiring from the Senate. After all, he is 83 years old. He looks surprisingly sharp for a man of that age, and is without question the best-dressed senator on Capitol Hill.
I think he made the right decision to retire. He will be leaving the Senate on a high note, having been instrumental in pushing through the Tax Cuts and Jobs Act of 2017 as chairman of the Senate Finance Committee.
And he opens up the opportunity for 2012 Republican presidential nominee Mitt Romney to become the next senator from Utah.
It is the end of an era. Regardless of whether people agreed with his politics, Orrin Hatch spent his seven terms in the Senate trying to work with lawmakers of both parties to find common ground when possible, and he will be missed!
Upcoming Appearances
Orlando MoneyShow, February 8-11, 2018: I'm delighted to return to the Orlando MoneyShow, where I will be giving a new presentation on "ETFs vs. Mutual Funds, Why You Need Both! (Plus, My Five Favorites)." I'll also be doing an encore of the "great debate" with Mike Turner on "The Economics Professor vs. the Mathematician: Buy-and-Hold vs. Market Timing." To sign up for your complimentary tickets, go to Skousen.OrlandoMoneyShow.com.
EconoSummit, February 17-18, 2018, The Orleans Hotel and Casino, Las Vegas: I'm a keynote speaker at this two-day event sponsored by the Las Vegas Investment Club (I'm a member and investor). This is a club that invests in growth businesses, not the stock market. I've made good money in their California gyms. Other high-profit opportunities are forthcoming, as guided by club president Mike Lathegie. Other speakers include Bill Strauss, a Federal Reserve senior economist; Sean Flynn, a brilliant economics professor at Scripps College (Clermont, California); Preveen K. Varshney, a Canadian expert on initial public offerings (IPOs); and Jeff Clark, a top mixed martial arts expert who knows how to make gyms profitable. To register, click here or call Bob at 1-250-229-4778. My subscribers pay only $299 per person for this two-day event. See you there!